Goodness Me! Nigerian Pastor Has Shared Screenshot Of Conversation He Had With Agent Of Spirit Woman Who Wanted To Introduce Him To Power To See Visions So As To Get Fame, Money
Exposed! Nigerian Pastor Has Shared Screenshot Of Conversation He Had With Agent Of Spirit Woman
Things are really happening ooh! There's absolutely nothing people wouldn't do to make ends meet. The children of the Devil are crawling all over looking for who to devour. Anyway, a Nigerian pastor has shared screenshot of conversation he had with agent of Spirit Woman.
According to the agent of Spirit Woman, he would be given 'Power' to see visions and be able to get money, fame, crowd etc. The agent even boasted of helping Bishops, Pastors and Prophets.
Read for yourself as shared by Pastor Ab Isong below:
SO THIS IS TRUE? MIND WHERE YOU WORSHIP PLEASE!
Days ago i had someone send a request via facebook messenger which I obliged and added him up. I'm sure he must have gone through my timeline and quickly knew i was a pastor. Below is a screenshot of our conversation.
He wanted introducing me to where i'll have what he called power! after that miracles and wonders will happen in our ministry, money, fame, crowd etc will come running.
My dear beware of where you are. He boasted of helping Bishops, Pastors, Prophets and so on.
I am well raised.. Hence he was talking to the wrong person.
Please my co-laborers, flee! run! remain steadfast in God.
Isaiah 31:11 says "Woe to them that go down to Egypt for help; and stay on horses, and trust in chariots, because they are many; and in horsemen, because they are very strong; but they look not unto the Holy One of Israel, neither seek the LORD!"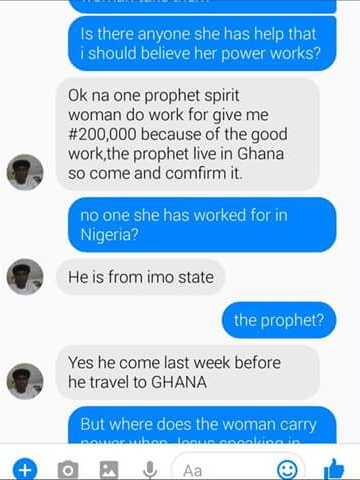 For more awesome posts, click HERE
Shocking! Nigerian Pastor Has Shared Screenshot Of Conversation He Had With Agent Of Spirit Woman