Latest On Regina Daniels Threatening To Release Teen Girl's Nudes Unless She Sleeps With 'Movie Producer' Richy Adams
Latest Update: Regina Daniels Threatening Release Of Teen Girl's Nude
Minutes ago, Regina Daniels updated her IG page posting the photo of 'movie producer' Richy Adams including a photo taken with the 'producer'. The actress had been accused of threatening to release a teen girl's nudes unless she bowed to pressure and sleep with Richy Adams. In fact, apart from Regina and the movie producer, her brother Sammy Daniels and Casie Snow (her best friend friend) were fingered in the allegations.
Read the latest on this as posted by Regina Daniels only minutes ago.
"I am not going to dignify this boy posing as a producer (richy Adams) using my name to dupe people. He's already wanted by the police. In this picture, is the Said producer possibly posing with one of his victims. I wonder how many more would have fallen for him. I just found out on the Said reginadanielsfanpage a picture I took with him, I can't even remember his face, he probably came as a fan to take pictures with me so he can dupe his victims easily which I believe is been operated by him. I have warned before and am still warning again, I have nothing to the with any Reginadanielsfanpage or any Regina Daniels account apart from my verified account. WARNING: I don't run a production house. As for the Facebook blogger that started all this drama online, I hope you have gotten your 1min traffic on ur page , that is if you are not the one operating the fake accounts. Meanwhile…as you don decide to hawk my matter for head like gala, I dey mama put for Ojuelegba dey eat hot pepper rice. "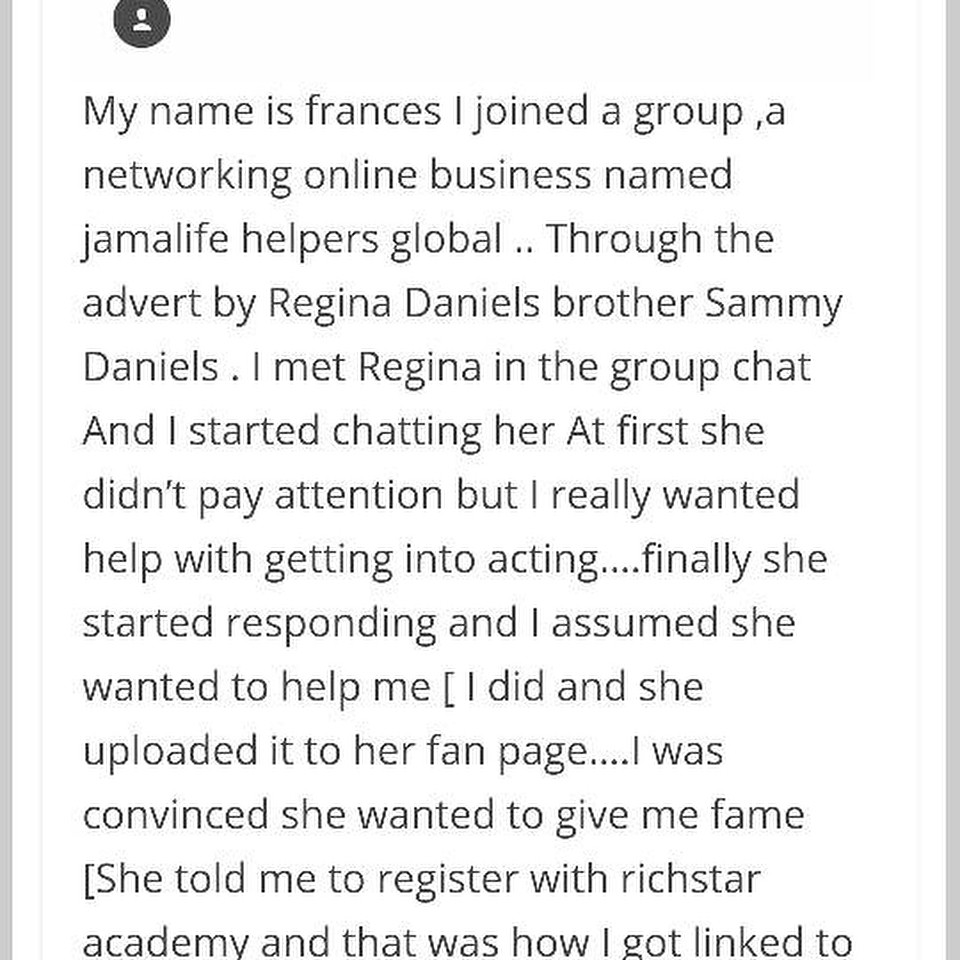 Click Amebo Book for more stuff.
Latest On Actress Regina Daniels Threatening Release Of Teen Girl's Nude
Chike Ezegbu is a blogger with an Information Technology background. He is a prolific writer and is fearless in his approach to dishing out information while maintaining high professionalism. He is regarded as both a lover and a fighter.