Queen Lisa Lisa: "Once I Sleep With A Guy, His Destiny And Success Becomes Mine" – Temple Lady Confesses
"Once I Sleep With A Guy, His Destiny And Success Becomes Mine" — Temple Queen
A lady has taken to Facebook to make a shocking revealation. Using the Facebook name, Queen lisa lisa, she confessed to 'stealing' away any man's destiny and success leaving him wretched for the rest of his life. She wrote:
"Once i sleep with a guy, his destiny and success becomes mine, and he'll be wretched for the rest of his life  Temple queen.".
Firstly, the Facebook page looks fake. Apart from that, it appears to be a deliberate attempt to slander someone else using the person's picture. Then again, people will say or do anything these days to 'sell their market'.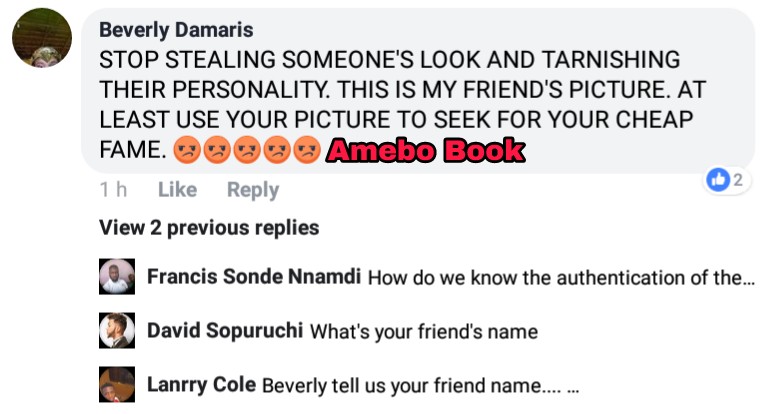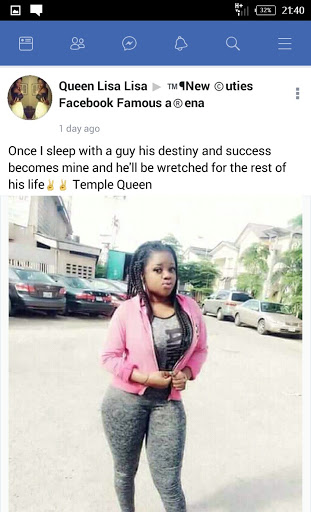 Click Amebo Book for more stuff.
Shocking! "Once I Sleep With A Guy, His Destiny And Success Becomes Mine" – Temple Lady Confesses
Chike Ezegbu is a blogger with an Information Technology background. He is a prolific writer and is fearless in his approach to dishing out information while maintaining high professionalism. He is regarded as both a lover and a fighter.