Survivors Of Landslide In A Colombian City Claim Figure of JESUS CHRIST Appeared Through The Skies And Saved Them [Video]
Miracle: Survivors Of Landslide In A Colombian City Claim Figure of JESUS CHRIST Appeared Through The Skies And Saved Them
A photograph has been circulating across the internet which has brought hope to some. It's understood that survivors of landslide in a Colombian city claim figure of JESUS CHRIST appeared through the skies and saved them. It even attracted a crowd in Manizales, in the north central Colombian region of Caldas, where 17 people were killed by landslides when a month's rainfall fell overnight last This rare cloud phenomenon was recorded on a mountain called Sancancio.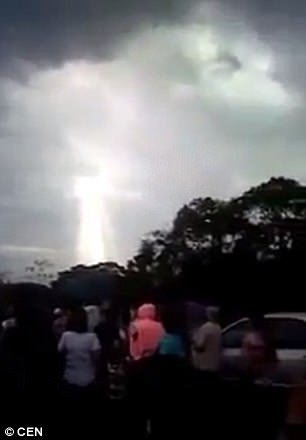 According to reports, people filmed the figure of JESUS CHRIST and were comforted.
Marya de Iesus posted a video of the bizarre phenomenon on social media, where she wrote: "Jesus Christ was visiting our Colombian town.
"He calmed down the sky and was listened to. God bless us and glory to Lord and Universe King."
On the video, a man can be heard in the background saying: 'Oh, my God, my blessed God, come here to see the misery. Look at this, look at this, blessing God. Glory to the Lord. Do you see the Lord there, standing up?'
However, there are those who believe it was linked to a wacky conspiracy theory that NASA is trying to bring about a new world order by using mind control. Others believe that it was simply "the light of the sun breaking through different types of clouds".
The Supernatural: Survivors Of Landslide In A Colombian City Claim Figure of JESUS CHRIST Appeared Through The Skies And Saved Them
Chike Ezegbu is a blogger with an Information Technology background. He is a prolific writer and is fearless in his approach to dishing out information while maintaining high professionalism. He is regarded as both a lover and a fighter.