"I Want Your Waist" — Moesha Boduong Tells Princess Shyngle, Prince David Osei And Captain Planet 'Exchange Blows' To Gain Gambian's Attention
I Want Your Waist — Moesha Boduong Tells Princess Shyngle
Someone once said ladies with massive behinds prefer to hang out together. We may have noticed this but that's gist for another day. Recently, Moesha Boduong jokingly passed a comment on a post shared by another booty queen, Princess Shyngle, saying she wants her waist. The stunning Gambian had shared a picture putting her famous curves on display. This immediately drew the attention of Prince David Osei and 4X4 rapper, Sylvanus Dodji Jeoffrey, popularly known as Captain Planet.
Princess Shyngle wrote;
"You will not get everything you want in life, appreciate what you have. You will not be accepted by everyone, value those who love you. You cannot please everyone in this world, be the best you can be. So therefore, choose people with beautiful hearts rather than faces. Because one beautiful heart is better than a thousand beautiful faces."
See how it went down below.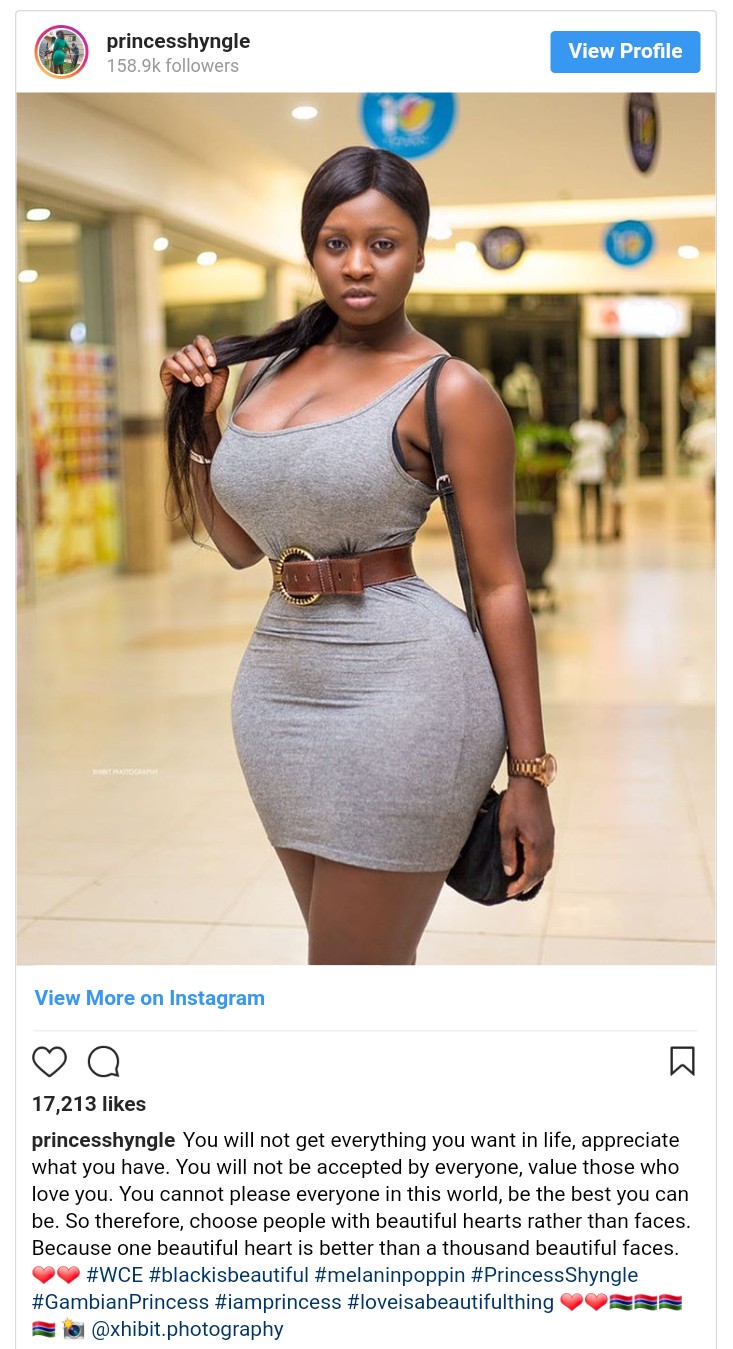 Even the fans were not left out. They reacted!
allithinkaboutisgreen: "Ugly as shit but my goodness you have an amazing ass."
cynakim: "@princesshyngle Why did you did you take off your ribs? This is insane! Women should be more confident with their body! This is 21st century and you gotta stop following and being influenced by this western culture! Body positive please!!!! #bodypostive god dam it!"
obosulala_:"A fit suffer for this Life do anything just to make u happy errr Obaaa" Nie @princesshyngle
elijahokonlogicinfinity: "Nawaooo egbami ooo"
jeff_addo: "As for this machine, is only those called captain planet who can handle."
6ixpiller: "Yeeeeee…. Hold body dhey cause hold up oOh"
amoakosandra88: "I jux can't imagine u getting pregnant"
illeddie: "Everything else asides this waist I don't get it"
young_zema: "Eeeeeeiiiiiiii wat a hips,a waist and a butt"
baresi_kinging: "@moeshaboduong urs is dope also.. but u ar too short"
chuckd_ng: "I should be used to this figure by now but I still get a mild heart attack when I see these pictures"
ms_fine_wine: "Is that a real waist or did you get some work done?"
just_essiet: "How can she be that thick and still have a slim waist"
raphsneh: "This can blind somebori oo….haa apa mi da"
Click Amebo Book for more stuff.
I Want Your Waist — Moesha Boduong Tells Princess Shyngle After Seeing Her Curves
Chike Ezegbu is a blogger with an Information Technology background. He is a prolific writer and is fearless in his approach to dishing out information while maintaining high professionalism. He is regarded as both a lover and a fighter.